Adult Swim had a long history of billboards that was in Atlanta and New York.
History
There have been billboards for Aqua Teen Hunger force. After the bomb scare in 2007, Adult Swim made [censored] billboards around Atlanta. Also for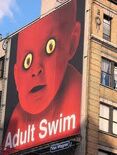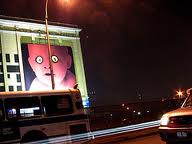 Christmas, Adult Swim made a billboard with a Man and a Woman laughing and enjoying the holidays.
Billboards
Red Baby- A Red baby with Yellow Cat Eyes that was based of the Adult Swim promo Everything Will Be Metal for the tv show, Metalocalypse. The billboard was seen everywhere, to make adults watch Adult Swim. Later, the billboards was tooken down for unknown reasons.
Tiger- A tiger sitting on the moon.
Happy Holidays- A Man and A Woman celebrating the holidays.
Ad blocker interference detected!
Wikia is a free-to-use site that makes money from advertising. We have a modified experience for viewers using ad blockers

Wikia is not accessible if you've made further modifications. Remove the custom ad blocker rule(s) and the page will load as expected.