[[Image: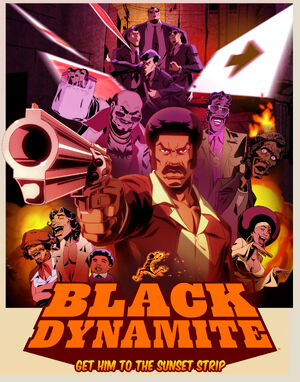 |center|280px]]
Black Dynamite is an American animated television series on the Adult Swim block based on the 2009 spoof film Black Dynamite. Details on the show have been kept to a minimum, but it has been revealed that the series is being produced by Carl Jones, producer of other Adult Swim shows The Boondocks and Freaknik: The Musical. The pilot episode has been finished, and an unknown number of episodes are being produced for the first season. It is unknown how involved the movie's staff and cast will be, if at all. The first season aired on July 15, 2012. The second season aired on October 19, 2014 and the show officially ended on January 10, 2015.
Ad blocker interference detected!
Wikia is a free-to-use site that makes money from advertising. We have a modified experience for viewers using ad blockers

Wikia is not accessible if you've made further modifications. Remove the custom ad blocker rule(s) and the page will load as expected.