Premiere
August 7, 2014
Seasons
2
Episodes
21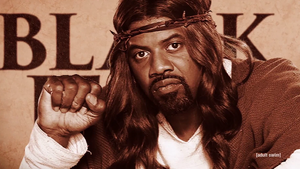 Black Jesus is an American comedy series created by Aaron McGruder and Mike Clattenburg that airs on Adult Swim. The series stars Gerald "Slink" Johnson, Charlie Murphy, Corey Holcomb, Kali Hawk, King Bach, and Andra Fuller. The series premiered on August 7, 2014. On December 10, 2014, the series was renewed for a second season. The second season premiered on September 18, 2015.
Plot
The scripted live-action comedy features Jesus Christ living in modern-day Compton, on a mission to spread love and kindness throughout the neighborhood with his small group of followers.
Cast
Ad blocker interference detected!
Wikia is a free-to-use site that makes money from advertising. We have a modified experience for viewers using ad blockers

Wikia is not accessible if you've made further modifications. Remove the custom ad blocker rule(s) and the page will load as expected.