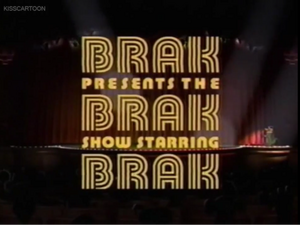 Brak Presents the Brak Show Starring Brak is a two-part live-action/animated musical comedy television special that aired on [[Cartoon NetwoBrak rk on February 20, 2000. The special was given a TV-Y7 rating.
These specials were intended to test the waters for a Brak spin-off show, but they received only a lukewarm reception from viewers and fans.
The specials combined animation and live-action not unlike it's predecessor Space Ghost Coast to Coast, however unlike Coast to Coast the live actors and animated characters interacted through use of chroma key, as opposed to merely placing them on monitors.
Wally Gator served as host, while Brak and Zorak performed.
Guests
Ad blocker interference detected!
Wikia is a free-to-use site that makes money from advertising. We have a modified experience for viewers using ad blockers

Wikia is not accessible if you've made further modifications. Remove the custom ad blocker rule(s) and the page will load as expected.