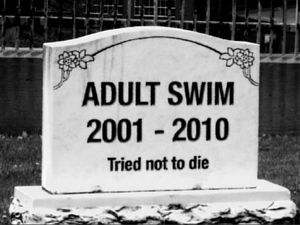 Adult Swim characters have suffered many deaths over the years, due to the cartoonish nature, and elastic continuity of the series' most deaths are reset by the next episode and the character appears alive as if nothing ever happened.
Other Characters
Scamp 1 - The first dog to die on the moon.
Space Ghost - Supposedly. Conan O'Brien brings up that he has to have died in "Fire Ant," but Space Ghost rejects this insisting that he's always been dead.