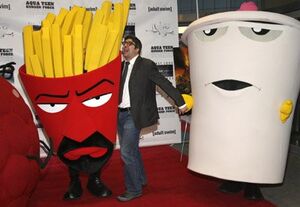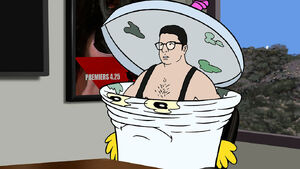 Dana Tiberius Snyder (born November 14, 1973 in Allentown, Pennsylvania) is an American voice actor.
Dana Snyder was born in the Lehigh Valley region of Pennsylvania. Dana grew up most of his life in Las Vegas, Nevada. He graduated from high school at Las Vegas High in 1992. He graduated from collage at Webster University in Missouri. He has said that he's "slightly dyslexic". His wife's name is Christine and they have been married for four years. Snyder was hired to voice Shake on Aqua Teen Hunger Force, auditioning during a phone call to Dave Willis.
Filmography
Ad blocker interference detected!
Wikia is a free-to-use site that makes money from advertising. We have a modified experience for viewers using ad blockers

Wikia is not accessible if you've made further modifications. Remove the custom ad blocker rule(s) and the page will load as expected.