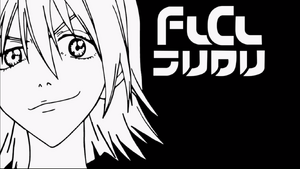 FLCL (Pronounced "Fooly Cooly") is a anime series produced by Production I.G., and Gainax, that originally aired on Adult Swim in 2003. The show revolves around Naota Nandaba,and his life after the appearance of Haruko Haruhaha, and Medical Mechanica.
On March 24, 2016 it was announced that Toonami would be involved in the co-production of 2 new seasons, totaling 12 episodes set to air in 2018.[1] This arrangement makes FLCL the third anime series, Williams Street has co-produced behind Big O Season two, and Space Dandy.
More information was revealed about the project at Anime Expo 2017, confirming that the series will begin airing in 2018, and The Pillows, who made the music of the first series would return, ad both seasons will feature different stories.
The second season stars a girl named Hidome who runs into a substitute teacher who looks like Haruka.
The show will feature staff from shows such as One-Punch Man, Mob Psycho 100, My Hero Academia, Naruto and more. The show will air dubbed on Toonami, and will simulcast with subs on Adult Swim's website.[2]
Credits
Supervisor: Kazuya Tsurumaki (concept, director, storyboard artist on the original series)
Screenplay: Hideto Iwai
Original Character Designer: Yoshiyuki Sadamoto
Character Designer: Chikashi Kubota (animator on Flip Flappers, character designer, animator on Corpse Princess)
Mechanical Designer: Kiyotaka Oshiyama (Flip Flappers, Space Dandy)
Supervising Director: Katsuyuki Motohiro
Music: the pillows
Animation Production: Production I.G x NUT x REVOROOT
FLCL 2 Directors
Kazuto Arai (Flip Flappers animator)
Toshihisa Kaiya (World Trigger)
Yuki Ogawa (Saekano episode director)
Yoshihide Ibata (Attack on Titan: Junior High)
Kei Suezawa (To Love Ru: Darkness' opening)
Hiroshi Ikehata (Robot Girls Z)
FLCL 3 Directors
Yutaka Uemura (The Mystic Archives of Dantalian)
Kiyotaka Suzuki (Karas episode direct, CG chief)
Sources
↑ Anime News Network, "Toonami to Co-Produce 2 New FLCL Seasons", March 24, 2016
↑ IGN, "Anime Expo 2017: FLCL 2 and 3 First Details, Release Window Announced" July 2, 2017
Ad blocker interference detected!
Wikia is a free-to-use site that makes money from advertising. We have a modified experience for viewers using ad blockers

Wikia is not accessible if you've made further modifications. Remove the custom ad blocker rule(s) and the page will load as expected.