[[Image: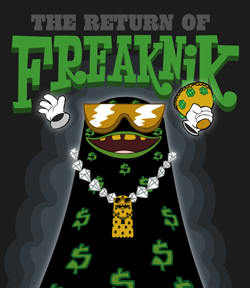 |center|280px]]
Freaknik: The Musical (often shortened to just Freaknik) is a musical special produced by Carl Jones. The special premiered March 7, 2010 and features the voices of rappers T-Pain, Lil Wayne, Young Cash, Snoop Dogg, Sophia Fresh, Rick Ross, and comedians Andy Samberg and Charlie Murphy.
Plot
The movie starts in at a party in which a group of teenagers claims it is the best party they have ever attended, until an elderly man enters and tells them the history of Freaknik. He tells them it was the biggest party of all time, until it was broken up by the police, whom he claims killed Freaknik. The group is then led by the old man in summoning Freaknik, who appears as The Ghost Of Freaknik Past.
The scene changes to a radio station that is interviewing Freaknik, who says that Freaknik is back. He also says that a rapping contest will be held, the victor of which gets "a lifetime supply of money, clothes, and hos". The scene changes once more to the bedroom of Virgil, Big Uzi, and Lit Skinn'd, collectively known as the Sweet Tea Mobsters, a group of teenage rappers from Sweet Tea, Florida, who hope to achieve fame. The group decides to drive to Atlanta to participate in the aforementioned contest, along with their weed smoking (and supplying) friend Doela Man.
During their journey Lite Skinn'd tells of a secret society of African Americans called the Boule, fraternity parlance for "a council of noblemen", that seeks to guide the course of black culture. The members of this organization are parodies of Oprah, Al Sharpton, Bill Cosby, Russell Simmons, O.J. Simpson, and Jesse Jackson.
The Sweet Tea Mobsters make a number of pit stops, including a detour at a college fraternity party where they meet two alcoholic fraternity members. At the party the group meets the Fruit Bowl Boys, who later become the group's biggest competition and are from the mostly white suburbs of Sweet Tea, Florida (although they ironically resemble the Sweet Tea Mobsters). On their long, winding road trip, the Sweet Tea Mob gets lost in New Orleans and is confronted by a gangster who makes them see his boss Trap Jesus. Upon meeting Trap Jesus the group loses hope, thinking it is the end, but instead he inspires them to compete and gives them one of his many Lamborghinis to use to get to Atlanta. However, they crash the lamborghini after Big Uzi was enraged at the Fruit Bowl Boys for rapping about his jail experience. The group gives up except Virgil who believes that it's their destiny. The rest of the group still doesn't believe tham until they are given a ride in an airplane by the "Flying Malcoms."
Meanwhile, the Freaknik character is elected the "ghost mayor of Atlanta" and dubs the city "Freaknation." Soon after, President Barack Obama hands the presidency over to the ghost of Freaknik, a move that greatly angers the Oprah-looking leader of the Boule who wants to see Freaknik destroyed. She then devises a plan to send a giant robotic monster called the "Perminator" (a robotic version of Al Sharpton) to Atlanta to destroy Freaknik. Meanwhile at the party the Fruit Bowl Boys begin singing "Shank Ya in The Shower." At this time the Sweet Tea Mobsters arrive at Atlanta, right about the same time the Perminator begins to attack. He seems to have Freaknik down for the count, but mass love from the crowd empowers Freaknik by having him grow to a monstrous size and using the love of his fans, he is able to destroy the Perminator. After the fight, Freaknik hands the prize of the contest over to the Sweet Tea Mobsters, but Virgil refuses it and tears the check in half. He tells Freaknik that he doesn't need it as long as Freaknik comes back every year, however before Freaknik can respond, he is taken away by a dog shaped spaced craft named the "Mothership Connection", that is inhabited by three brightly colored aliens (George Clinton, Bootsy Collins, and the spirit of P-Funk), and it is implied that Freaknik himself is from another planet. The Aliens ask Freaknik to come with them and travel the Galaxy to Use Freaknik's power of positivity to bring joy in the galaxy, the aliens also promise that Freaknik will return someday and they can funk it up again once again. Before he goes with the Aliens, Freaknik gives Virgil his diamond chain and says Atlanta will always be his home. A woman approaches Freaknik telling him that her baby ( who looks just like Freaknik ) needs a daddy, which frightens Freaknik to the point he rushes on aboard the ship. Djay Thanksgiving claims how crazy it be when Freaknik comes in town and too see them all next ( implying that there will be a sequel ). Freaknik is then seen dancing on the ship.
At the end of the movie, Virgil and the Sweet Tea Mob are shown patching up the check they won.
History
Freaknik: The Musical was originally a pilot for a full-time series entitled That Crook'd 'Sipp. After That Crook'd 'Sipp premiered and was greenlit for a full season, the show was scrapped and then retooled into Freaknik. Freaknik was an hour long special, instead of a full-fledged series.
Cast
T-Pain as The Ghost Of Freaknik Past
Young Cash as Virgil
Rick Ross as Big Uzi
Cee-Lo Green as Lite Skinn'd
DJ Pooh as Doela Man
Lil' Jon as The Foreboding Old Dude
DJ Drama as Himself
Kelis as Tyra Banks
Sophia Fresh as Leacosia, Toprameneesha, Obamaniqua
Andy Samberg as Chad
Bill Hader as Tad
Affion Crockett as Play, Riff, Russel Simmons, Flying Malcom #1, Additional Voices
Kel Mitchell as Fruit Bowl Boys Member, Bill Cosby, Additional Voices
Big Boi as The Preacher
Snoop Dogg as Gang Member #1
Mack Maine as Gang Member #2
Lil Wayne as Trap Jesus
Charlie Murphy as Al Sharpton, The Perminator
George Clinton as Himself
Bootsy Collins as Himself
Corey Burton as The Newscaster, The Dukes of Hazzard Announcer
Natalie Desselle-Reid as Doela Man's mother
Georgette Perna as The Secretary
Christopher 'Kid' Reid as Himself
Maronzio Vance as Jesse
Carl Jones, Gene Anderson, Liz Benoit, Reginald Boyland, Marlin Hill, Gerald Johnson, Heather Lawless, Jason Van Veen, Jason Walden, and Denzel Whitaker provide Additional Voices.
Sequel
A month week after the premeire of Freaknik, which recieved highly positive reviews, T-Pain announced that an as-of-yet untitled sequel is in the works, and tenatively set for a 2011 premiere. While T-Pain has announced the sequel, there has been no word on the issue from [adult swim], Williams Street, Titmouse, or creators Carl Jones and Nick Weidenfeld.
Ad blocker interference detected!
Wikia is a free-to-use site that makes money from advertising. We have a modified experience for viewers using ad blockers

Wikia is not accessible if you've made further modifications. Remove the custom ad blocker rule(s) and the page will load as expected.