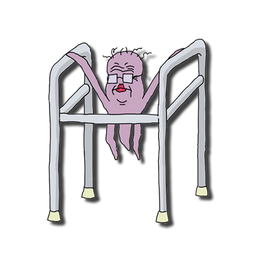 Ruby Jean "Granny" Cuyler
is an elderly squid, the grandmother of Early and Lil and great-grandmother of Rusty. She is purple (in opposition to the rest of the family's pale green), hangs from a walker, and has only five tentacles for unexplained reasons. Granny is a devout Christian and regularly sees visions of "Squid Jesus", though like the rest of her family she does not shy away from violence or foul language. She is a skilled weilder as revealed in the episode "
Condition: Demolition
." She is prone to becoming confused about her current situation and whereabouts due to her extreme senile dementia. Granny is also a nymphomaniac who propositions most of the series' characters for sex at one point or another. It is also implied that she has an incestuous relationship with Lil (also apparently without consent), and has encouraged Rusty to scratch her genitalia. She suffers from various health problems, including a failing gallbladder, but refuses to die. She is apparently a published author, her book "E Is for Equine" making a brief appearance in episode five of season two.
Ad blocker interference detected!
Wikia is a free-to-use site that makes money from advertising. We have a modified experience for viewers using ad blockers

Wikia is not accessible if you've made further modifications. Remove the custom ad blocker rule(s) and the page will load as expected.