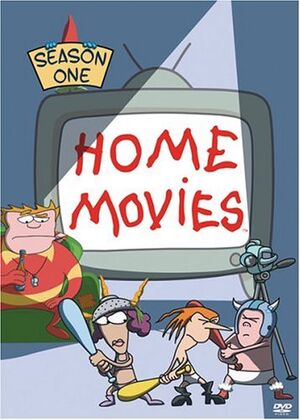 Home Movies is an American animated series created by Brendon Small. The show originally aired on the UPN network but after 5 episodes was canceled. The series was then rebroadcast, including the unaired 8 episodes, on Adult Swim. The series premiered on Adult Swim's Sunday night block in the year 2000. The series ran from 1999 to 2004.
Plot
The series follows an eight-year-old, Brendon Small (voiced by the creator, head writer, and lead musician of Home Movies, Brendon Small), who makes films with his friends, Melissa Robbins and Jason Penopolis in his spare time. He lives with his divorced mother, Paula, and his adopted baby sister, Josie. He is also friends with his alcoholic, short-tempered soccer coach, John McGuirk.
Credits
Creators:
Directors:
Starring:
Ad blocker interference detected!
Wikia is a free-to-use site that makes money from advertising. We have a modified experience for viewers using ad blockers

Wikia is not accessible if you've made further modifications. Remove the custom ad blocker rule(s) and the page will load as expected.