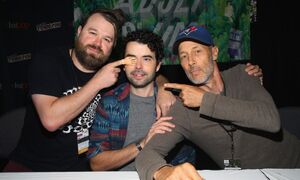 Jonathan Francis "Jon" Gries (b. 1957) ) is an actor, writer and director. He is also credited under the names Jon Francis and Jonathan Gries. He is best known for his role in Napoleon Dynamite as Uncle Rico, and also more recently as recurring character Roger Linus on Lost. He is also known for his roles in Martin, The Pretender, and Running Scared.
He stars as Dr. Roberts in Dream Corp, LLC.
Ad blocker interference detected!
Wikia is a free-to-use site that makes money from advertising. We have a modified experience for viewers using ad blockers

Wikia is not accessible if you've made further modifications. Remove the custom ad blocker rule(s) and the page will load as expected.