Ad blocker interference detected!
Wikia is a free-to-use site that makes money from advertising. We have a modified experience for viewers using ad blockers

Wikia is not accessible if you've made further modifications. Remove the custom ad blocker rule(s) and the page will load as expected.
[[Image: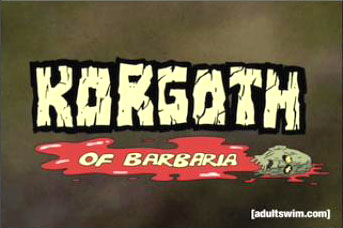 |center|280px]]
Korgoth of Barbaria was a proposed series rejected by Adult Swim.
History
Created by Aaron Springer, the pilot episode first aired on June 3, 2006 at 12:30 AM (EST) on Adult Swim. On June 18, 2006, Adult Swim ran a bumper announcing Korgoth was officially picked up as a series. However, it was dropped before production began.
Setting
The show was set in a post-apocalyptic world where sorcery and the remnants of technology exist simultaneously. Korgoth was prone to humorous amounts of violence, tying in with his Viking heritage.
Cast
Diedrich Bader as Korgoth
Corey Burton as Specules
Craig Raisner as Gog-Ma-Gogg
Tom Kenny as Hargon