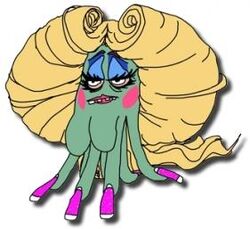 Lil Cuyler
is Granny's granddaughter and Early's sister, cosmetically challenged Lil wears Caucasian flesh-colored eye-shadow and extremely long fake finger nails on her tentacles. Her last name is confirmed to be Cuyler in the episode "
Mephistopheles Traveled Below to a Southern State Whose Motto is 'Wisdom, Justice, and Moderation'
". With a raspy voice often punctuated by a nasty smoker's cough, Lil' is a worn-out and rather jaded squid. She runs an on and off crystal meth and marijuana operation, and is a known user of her own products. It is revealed that cigarette smoke has replaced most of the blood in her veins; and that she also suffers from Hepatitis D. She is frequently seen passed out in her own filth and/or vomit; likely a victim of drug-induced burnout; however the fifth season premiere shows this to be a ruse, with Lil using her periods of burnout as a decoy to prevent anyone from detecting her underground drug operation, which she dictates through a hole in their home's floor.
Ad blocker interference detected!
Wikia is a free-to-use site that makes money from advertising. We have a modified experience for viewers using ad blockers

Wikia is not accessible if you've made further modifications. Remove the custom ad blocker rule(s) and the page will load as expected.