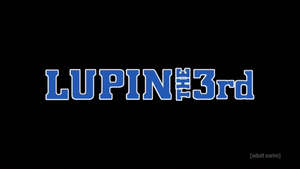 Lupin the Third Part IV also known as Lupin the Third Part IV, is the fifth incarnation of TMS Entertainment's long-running anime television adaptation of the Lupin III manga series written by Monkey Punch.
The dub, which was directed by Richard Epcar and Ellyn Stern, started airing on Adult Swim's Toonami block starting on June 17, 2017.
See also
Ad blocker interference detected!
Wikia is a free-to-use site that makes money from advertising. We have a modified experience for viewers using ad blockers

Wikia is not accessible if you've made further modifications. Remove the custom ad blocker rule(s) and the page will load as expected.