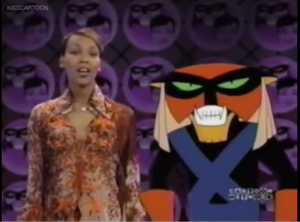 Monica Denise Brown (née Arnold; b. 1980), simply known as Monica, is an American singer, songwriter, producer, and actress, from Atlanta. She rose to prominence after releasing her debut studio album, Miss Thang, in 1995. It went multiplatinum, while its first two singles, "Don't Take It Personal" and "Before You Walk Out of My Life", made her the youngest recording act to ever have two consecutive chart-topping hits on the Billboard Top R&B Singles chart. In 1998, Monica's second album, The Boy Is Mine, earned her major international chart success.
She sings a remix of "I Love You, Baby," with Brak in the special Brak Presents the Brak Show Starring Brak.
Ad blocker interference detected!
Wikia is a free-to-use site that makes money from advertising. We have a modified experience for viewers using ad blockers

Wikia is not accessible if you've made further modifications. Remove the custom ad blocker rule(s) and the page will load as expected.