| | |
| --- | --- |
| Writer | Tini Howard |
| Cover Date | August, 2017 |
| Art | Marc Ellerby (Illustrator) |
|   | Katy Farina (Colors) |
| Letterer | Crank! |
| Publisher | Oni Press |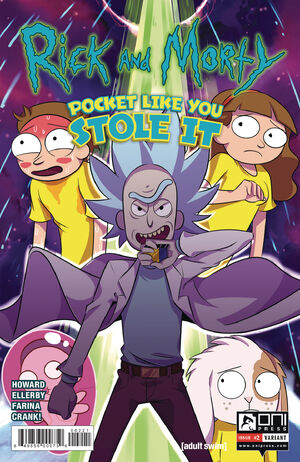 Morty thinks he's hit the jackpot when he stumbles upon a secret Morty haven, run by Crazy Cat Rick. All the food and cozy body pillows he could want! But he soon discovers that there's a dastardly reason that the Mortys are so docile, and stumbles upon the grand secret of Morty battling.
Plus: more Pocket Mortys cards in the back of every issue!
Ad blocker interference detected!
Wikia is a free-to-use site that makes money from advertising. We have a modified experience for viewers using ad blockers

Wikia is not accessible if you've made further modifications. Remove the custom ad blocker rule(s) and the page will load as expected.