| | |
| --- | --- |
| Writer | Tini Howard |
| Cover Date | September, 2017 |
| Art | Marc Ellerby (Illustrator) |
|   | Katy Farina (Colors) |
| Letterer | Crank! |
|   | more... |
| Publisher | Oni Press |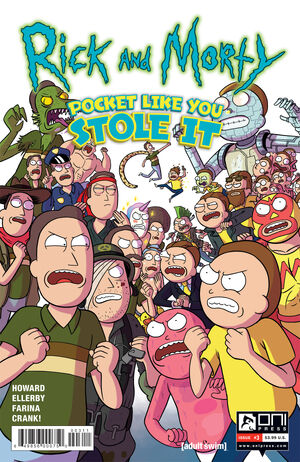 Aw gee, Morty's on his way to stop the Council of Ricks! Morty battling just isn't right, and we've gotta stop it! That is, until he gets stopped by Beth, and her team of pocket Jerries! Swimming Jerry! Wizard Jerry! Buff Jerry! They're all here, and they're all out to stop Morty! Plus: more Pocket Mortys cards in the back of every issue!
Ad blocker interference detected!
Wikia is a free-to-use site that makes money from advertising. We have a modified experience for viewers using ad blockers

Wikia is not accessible if you've made further modifications. Remove the custom ad blocker rule(s) and the page will load as expected.