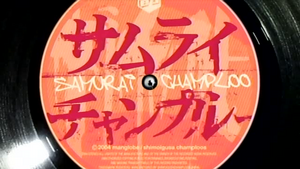 Samurai Champloo is a Japanese anime show created and directed by Shinichirō Watanabe. It was broadcast in Japan from May 20, 2004, through March 19, 2005, and premiered on Adult Swim on May 14, 2005. The show consists of twenty-six episodes and was produced by studio Manglobe.
Plot
The story revolves around a young lady named Fuu who travels across Japan to find "the samurai who smells of sunflowers,". She hires a fallen samurai named Jin, and an anti hero named Mugen to help her out in her journey.
Characters
Ad blocker interference detected!
Wikia is a free-to-use site that makes money from advertising. We have a modified experience for viewers using ad blockers

Wikia is not accessible if you've made further modifications. Remove the custom ad blocker rule(s) and the page will load as expected.