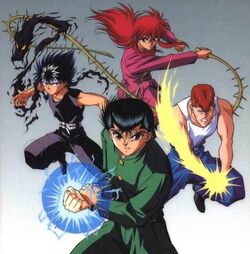 YuYu Hakushois a Japanese anime series based on a Japanese manga written and illustrated by Yoshihiro Togashi. The show premiered on Adult Swim 2002 but after only being on air for a year, the show was moved to Tonami were the remaining episodes where shown.
Plot
YuYu Hakusho tells the story of Yusuke Urameshi, a teenage rebel and delinquent who is struck and killed by a car. As a ghost he shows he is capable of redemption and is revived. After returning to life he is surprised to have supernatural powers and is hired to be a spirit detective.
Ad blocker interference detected!
Wikia is a free-to-use site that makes money from advertising. We have a modified experience for viewers using ad blockers

Wikia is not accessible if you've made further modifications. Remove the custom ad blocker rule(s) and the page will load as expected.